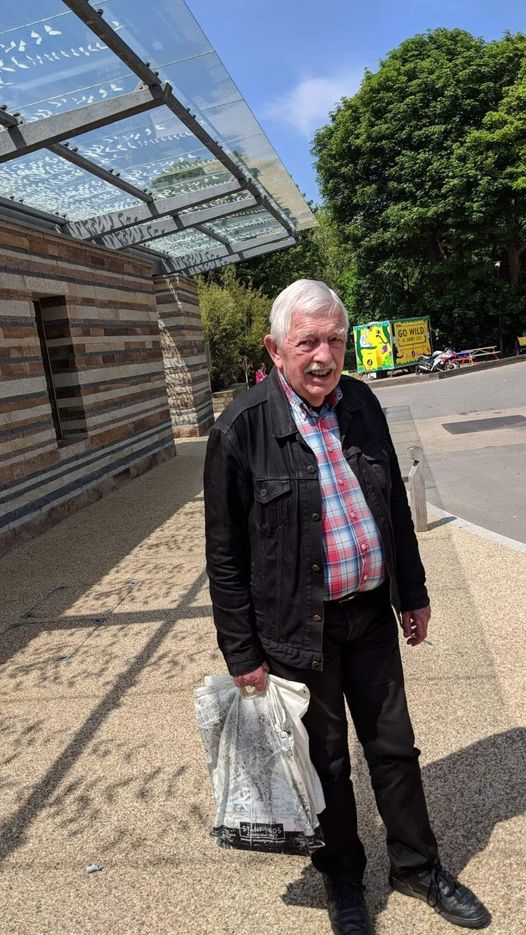 Roger and I met on 22nd November 1977. We met in the pub after the Tudor Seminar. After that first meeting, we saw more and more of one another. The summer of 1978 he took me to Aldeburgh and shortly thereafter I moved into Courtlands Avenue. I lived there until 1983. Ours was always a tempestuous partnership. Perhaps I was too young not to feel the allure of gay life in London; he perhaps already too jaded to be dazzled by its limited charms: a tale of January and May.
I learned much about life and culture and music with Roger. He brought me to Benjamin Britten and Richard Strauss. Oddly I brought him to Handel opera and oratorio. We shared a love of Haydn, but he had a loathing for Mozart that like many of his idée fixe was not to be contradicted. He had no television, so we shared radio and played chess and played music. Whilst I lived with him, we also gave dinner or lunch parties, and I met many new acquaintances some of whom became lifelong friends. I think here particularly of Liam Smith (RIP) and Fr Derek Jennings (RIP) and Undine Concannon but there were many more.
Roger was already working at Queen Mary. He was also still writing and for these years he worked on his section of what was to be the complete works of Voltaire – his commentary not only surveying Voltaire's analysis of recent European history in his writings but also a comparative study of interpretations. The Voltaire project collapsed and sadly Roger's major discursive survey never was to see print. Afterwards, he was never quite the same about his research. He did begin various major new surveys of architecture as a commentary on both royal and noble rivalries in provincial France.
He had a sharp eye for detail and a voracious appetite for tourism. He loved to travel. But as with most things he loved, travel had to be managed according to a strict timetable for days, places and experiences which if you were his companion whilst always informative and always enlightening could also become a constrictive route march. He found me as difficult as I found him! He assembled reservations for these military style campaigns with the elan of one of Louis XIV's generals. There was no Internet, and all this had to be done on foot and via an assembling of a cornucopia of leaflets of sailings, flights, buses and always railways timetables. Even days out to Cambridge or weekends to Aldeburgh or Exeter or Leeds or York were managed in this martial fashion. Early to the US, his first visits were before the Twin Towers rose in New York!
Roger brought me to Amsterdam; to Munich; to Morocco in its golden afterglow of its 1960s heyday; and above all to Venice. We had two wonderful holidays there – even if the strains on our relationship were showing, Venice with Roger was a revelation. Without Roger I would never have seen and understood so much of Venice and, indeed, the entire world of music and culture.
Food was another shared passion. I of course cooked and Roger endlessly generous took me out for dinner all over London. He was highly amusing companion – sharp – too sharp many thought – witty and something of a raconteur. He could entrance and make people laugh with him. He was a fountain of gossip, some of which was more reliable than others. He was always a little starstruck by celebrity although he pretended otherwise.
His mother loomed large in his life in those times too and we often spent Saturday lunch or Sunday late afternoons with her in the family home in the Avenue in Bexleyheath. He had a troubled relationship with her when I met him but perhaps, I helped them to mediate a different one which lasted until Phyllis died. We watched the many Borg Wimbledon finals with her. We had many happy times full of laughter.
Our partnership ended and I left Courtlands Avenue for a new life and my own house. It was not an easy parting, and it was not easy to negotiate a continuing friendship. But to Roger's immense credit any hurt he felt was kept in bounds. When we could not talk of much that wasn't painful we could still talk history. For the rest of my life in London I saw him at least once a week. We occasionally essayed trips abroad – to Munich – or at home to Aldeburgh or Exeter or some such. We continued to share opera, concerts and increasingly as the years advanced – still ever the teacher to pupil – he drew me into the world of lieder.
Roger had immense consideration for those who were ill. During the AIDS pandemic he visited many dying friends and took them out here and there. He also was assiduous after death came. He was a good at keeping those two precepts of the corporal works of mercy as any Christian I've ever met. And he was most emphatically not Christian. Our loudest arguments were bound up with my Catholicism and his Logical Positivism. Although that said, he had his own soft spot for the Latin liturgy I so loved. Indeed, he had quite the collection of Haydn masses when we first met. When it came to my turn to be seriously ill, he was loyal. He was also loyal and patient of me in the aftermath of depression. He even visited Creena in her Home in her small room lonely and alone. As ever he could light up a life with his bustling bonhomie. She always smiled after seeing him.
At its best his garrulous company was brilliant. At its worst he could be rude and sometimes cruel. He knew this and like an aging despot sometimes simply enjoyed playing this capricious game. He loved to shock with inappropriate tales in a grand salon. By now his appearance was always much the same – very tight black jeans, trainers, a check shirt that was a bit too snug and a denim jacket in the summer and a military coat in Winter's bitter; and Summer, Spring or Fall always with his trademark plastic carrier bags which served various purposes of eccentricities acquired over a lifetime.
He would always be early or feverishly on time. He hated being kept waiting.
Perhaps age was not kind to him. He lived on in Courtlands Avenue as his health declined primarily through personal neglect. His was more hostel than home. He went out for fun – and no matter the weather was a stalwart of walking and public transport and its many interconnections. Long before the London Overground, Roger could take you across London by bus, train and tram with an athlete's elan.
As health issues became to proliferate, he refused to go to his doctors. He refused to give up smoking. He refused to give up drinking. He refused to give up on the dinners. Once we moved from London, he came here to Benson often for 2 or 3 nights at a time. Even on his last visit just 10 days or so ago, he refused a lift to Reading. He did find immense joy in being driven out for days to visit gardens and houses and churches. He often arrived with a to-do list which had to be done come what may. He also greatly enjoyed the hospitality and company of Father John Osman who as Cambridge Chaplain had known many of same people Roger knew from Peterhouse. These years also brought a golden sunset of academic lunches with Sir Michael Howard, Mark James, Dr Robert Bedard and Father John at the Free Church. Roger greatly appreciated renewing those acquaintances.
Roger could be difficult. Perhaps I too could be difficult. We are all flawed diamonds sparkle as we might. But friendship is a gift that dresses those flaws with its precious metal, so they might mainly remain unseen. He was better to me than often I deserved. I think he might say the same the other way around. And that is ultimately the test of a lifetime of friendship. We love despite the failings we know because we can see the beauty that lies within the heart, and mind and soul of another.
I cried yesterday. I will miss him. Above all I appreciate all the many good things he did for me. He changed my life and shaped it too. We all might be better people than our myriad faults permit. But love and friendship make of us gods and spin gold from the stubble of our humanity.
Roger Mettam was one such. God grant him eternal rest.