Edward VI 1537 – 1553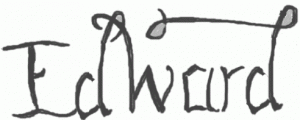 Henry VIII's son Edward VI is known to history as the boy King. Usually it comes as a surprise that he was more King than boy. Popular history also has him as a sickly child. There is little historical evidence Edward was particularly delicate. There are certainly plenty of concerns expressed about about his health but, unlike Francis II of France he was never regarded as having a weak constitution. Edward the generally robust. His schooling was rigorous. His privy purse accounts show us a young man interested in fashion; gambling; chess; matters military and religious; and most of the sporting pursuits associated with the joust beloved of Renaissance noblemen.
In every way Edward VI was his father's son. In 1553 he was no less King and his father had been in 1509 upon his accession. The story between Edward's accession in 1547 and his death, probably from pulmonary tuberculosis, is of his emergence from background to foreground; from boyhood to manhood; from supporting actor to leading man. Despite a long tradition of seeing Edward as the passive instrument of the duke of Northumberland it seems that the most satisfactory explanation of the device to alter the succession in favour of the lady Jane Grey  is that the inspiration was the king's and the king's alone. The events of May and June 1553 present a picture of a desperately ill Edward still able to command the Archbishop of Canterbury Thomas Cranmer, the entire privy Council, the legal officers of the Crown and ultimately the political class into joining him in a his (doomed) enterprise to alter the succession away from his two elder half sisters, Mary and Elizabeth.
Nineteenth historians with their views of childhood and notions that a child should be seen and not heard found it difficult to accept that Edward VI was seen; was heard; and was obeyed. Renaissance children, particularly those of high-ranking aristocrats, were accorded a place in court. They were encouraged to perform roles in public which made them precocious. They were dressed as small adults. They were deferred to and treated as if they possessed intellectual maturity above their physical age. Of course, this was partly only a game of manners. Children who came early to sovereignty usually governed through Regents and councils. Nevertheless it would be foolish to regard a child sovereign in the 16th century as merely pawn of others' ambitions.