Game of thrones III – Lancaster bombs and York's son rises: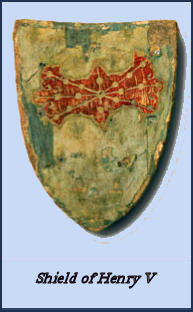 Some events no sooner have passed than they are bound with a tissue of myth. It is part of our cultural response to certain events – the assassination of JFK in November 1963 is an obvious example. Henry V was similarly and almost as immediately immortalised after his unexpected and unforeseen death in 1422. He was joined to that Pantheon of heroes  – most often young – snatched tragically too soon  – before their work was yet completed and before their promise was fulfilled – epitomised by Alexander the Great. Unlike us lesser mortals they never taste the soured grapes of failure; they elude the chastening of history's hard judgement; they escape the forgetful frailties that come with age. Forever young – they live on in myth –  and in the case of Henry V forever wrapped in the splendid cope of Shakespeare's poetry.
As a king, Henry V quickly came to epitomise an English chivalric ideal. As a monarch he was devout; as any good Christian king, he was religiously observant. As a patron he was a generous benefactor – Henry V founded All Souls College as a memorial to his victory at Agincourt. As its name suggests it was partly endowed as a Chantry College part of whose office was to pray for the souls of  England's dead heroes rather than teach undergraduates. Henry V was a king who fought battles and won them against the odds. He was the king who made himself heir to the throne of France by force of arms but graciously sealed victory on the field by the peaceful gesture of dynastic marriage. Though young and brave he was wise and restrained. Whether the real Henry V was all or any or none of these things hardly matters for Empire won on the fields of France the conquering hero who was Henry V did not dally long before he in turn was conquered by death.
Henry V's marriage to Katherine de Valois was a dynastic rather than a love match. Katherine was in fact the second wife King Charles VI had furnished to an English king since her elder sister Isabella had been the child-bride to the doomed Richard II. Katherine de Valois was quickly pregnant. Their first child was a son, born in December 1421, he was christened Henry. The infant boy was heir to both the thrones of England and of France.
The unification of the two warring kingdoms personified by this young prince-ling had required Charles VI to disinherit his youngest son – claiming the dauphin (later Charles VII of France) was illegitimate. His two elder sons, Louis and John had perished at Agincourt in the general slaughter of French nobility. The subsequent Treaty of Troyes (May 1420) bestowed not only the hand of Charles VI's daughter but also settled the succession to the throne of France on Charles VI's new son-in-law, Henry V. It may be as a consequence of this French chroniclers nicknamed Charles VI 'the mad'. Mad or not,  Charles VI certainly suffered from repeated bouts of depressive illness which might have been of no significance were it not to be for the subsequent history of his grandson.
That was yet to come for in December 1421 the proud father, Henry V, was only thirty three. The House of Lancaster was secure and it appeared the greatest days for dynasty and king were yet to come.  As ever in history appearances can be deceptive.
Charles VI of France died in October 1422 – ten months after his grandson's birth by which time the infant prince's young, vigorous father, Henry V,  was also dead.  As accidents of history are most often fatal to a dynasty; so, it is the unforeseen that most often alters history's course. Such youthful promise lost still in its fullest flower drew easy comparisons and in death Henry V's renown was readily burnished with the heroic patina of an Alexander. But renown's paeans die in the eerie still that follows the herald's final trumpeting. The future now belonged rather to the dead king's nine month old son, King Henry VI.
Henry VI – Faction & Intrigue
Young Henry VI's coronation did not follow swiftly on his accession but like most of his life – it had rather to wait upon events. In July 1427 – inspired by Joan of Arc – the 'bastard' dauphin – the young son whom Charles VI had disinherited – was crowned Charles VII of France to acclaim in Reims cathedral.  By way of contradiction to the coronation of the dauphin Henry VI was finally crowned king of England in Westminster Abbey in November 1429 and shortly thereafter he was also crowned king of France in Notre Dame de Paris.  Already it was too late as even by 1429 the dazzling possibility of a single English monarch governing the two kingdoms was but a chimera. Its moment had already passed.
The accession of so young a king had also caused other problems. The queen, Katherine de Valois, had hardly the time to established herself in England before her husband was dead. It was therefore inevitable that the chary nobility refused her the natural role of regent or any formal place on the king's council. Equally, they did not want their queen to return to France. She was rather marooned in England  – and then subsequently she was kept from a marriage to a high ranking Lancastrian noble by the jealous council. The queen was closely confined and kept out of harm's way in the royal apartments in a suite of rooms on the king's side. The young dowager queen was only just 20 and as so often with the young – harm has its way of finding them out. She looked elsewhere for comfort, entertainment and love. It came to her in the courtly cape of the keeper of her wardrobe – a Welshman – Owen Tudor. The Tudor family had been stalwarts of Owain Glyndwyr's rising in 1400 which had been supported by Edmund Mortimer. After their defeat a number of these Welsh 'gentry' were brought to Henry IV's court – rather as hostages – and many made there way from there into royal service of Henry IV and to hold office- in the royal household. The dowager queen was quickly pregnant and their son Edmund was consequently of doubtful legitimacy.When in time Henry VI made their son Edmund,  Earl of Richmond few would have believed he would become a significant player in the battle for the English succession. Legitimised and ennobled, Edmund Tudor in fact married into the legitimised and ennobled Lancastrian Beaufort line – Margaret Beaufort, daughter of the second Duke of Somerset (by second creation) and by 1485 surviving sole heiress of the House of Lancaster. Edmund and Margaret had only one child whom they named Henry Tudor. The rest, as they say is history.
Meanwhile, much as in the reign of the young Richard II,  Henry VI's government was the business rather of his royal uncles. And as before, they quickly filled the royal breach with their own ambitions. Initially, there were plenty of Lancastrian Uncles left to choose from – of the brothers of Henry V –  the eldest Thomas, Duke of Clarence had died in 1421; the next, named for John of Gaunt, John, Duke of Bedford was appointed regent in France. He faced down Joan of Arc but died without issue in 1435 and was buried in Rouen. The youngest of Henry V's brothers was by far the most able – Humphrey, Duke of Gloucester. He was Henry VI's  lord protector but he too was unlucky in love  – his first wife bore him no children and his second wife was accused of sorcery and imprisoned and by the time of his death in 1447 he had no legitimate heirs.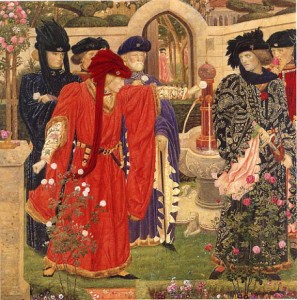 Humphrey was also unlucky in politics since his main rivalry was with the cadet Beaufort branch of the House of Lancaster in the person of John of Gaunt's second son by Katherine Swynford, Cardinal Henry Beaufort Bishop of Winchester. It is the rivalry and intrigue between these two scions of the Gaunt descent that fills Raphael Holinshed's history of England and shaped much of Shakespeare's Henry VI Part I. The cardinal died shortly after Humphrey leaving the young king to rule alone. Henry VI was by then 26. The 'bastard' Beaufort line was fecund and in its statutory legitimacy found itself bound into the wider English nobility. And it is with the other Beaufort – the 2nd Duke Duke of Somerset – second creation –  who is is famously depicted in Henry VI Pt II and set in Temple Gardens. The meeting portrayed opposite never took place but it sums up perfectly the elements in the gathering storm that was to completely overwhelm the House of Lancaster and her king, Henry VI in the decade after 1445.
The root of the problem was the king. Henry VI was later memorialised as a saint. In Tudor ceremonials – funeral and marriages – Henry VI's arms were borne in procession under the designation St. Henry. He certainly was religious but is was his poor mental health that posed the greatest danger to his government. His marriage to Margaret of Anjou was successful enough in its own terms but Henry was slow to fulfill his office of husband. His first serious bout of mental illness therefore left him at the mercy of the ambitions of his Yorkist cousins.
The rise of the sons of York
The House of York had originally somewhat withered on its original branches. Edmund Duke of York, Edward III's fourth son and his eldest son and heir, Edward were both dead by 1415. The duchy lands –  though not the ducal title – had, therefore, passed sideways to Edmund's second son, Richard (of Conisburgh) Earl of Cambridge. The York branch was junior to all of Gaunt's children. The Beaufort – illegitimate children of Gaunt's mistress Katherine Swynford –  were later legitimised when the grand old duke married Mistress Swynford but their legitimisation excluded in any event from the succession. The senior lines to Gaunt via Richard II had failed; and via the second son of Edward III, Lionel Duke of Clarence, it had descended via the female line into the Mortimer. The Mortimer, father and son had been Richard II's preferred heirs but that came to mean nothing and by the death of Henry V the male Mortimer lines had also failed. However, their deaths left a sister, Anne Mortimer. Her marriage to Richard (of Conisburgh) Earl of Cambridge united the senior Clarence claim to the junior male York descent. Their son, another Richard, was consequently made Duke of York by Henry VI. He is the first Yorkist claimant.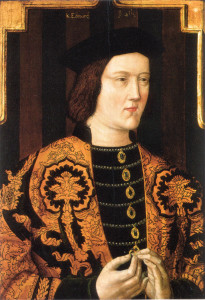 Richard, Duke of York was premier peer. He married in his turn Anne Neville sister to the Richard Neville Earl of Warwick (the kingmaker). By her he had four sons – Edward, Earl of March; George; Richard and Edmund. Richard, Duke of York, was as aforementioned the first of the royal house to use Plantagenet as a family name. This Duke of York was as able and ambitious as his royal cousin Henry VI was vacillating and modest. Whilst Henry VI was mentally incapacitated Richard served briefly as Protector of England (1453-4). This promotion only served to feed his appetite for a more permanent royal status. York bullied the then heir-less king, Henry VI, into naming him as his heir.It was a fateful ambition that now stirred.
Henry VI's recovery from his silent depression was quickly followed by his wife Margaret's pregnancy. The birth of their son, Edward of Westminster changed everything. Whatever the king had promised York or was prepared to accept Margaret was not minded to have her child lightly set aside. She refused to acknowledge her son was disinherited and despairing of her husband's spine – Margaret took matters into her own hands. The thwarted Duke of York reacted furiously asserting his right to the crown and claiming legitimacy via Anne Mortimer. Parliament havered – it was nervous about removing an anointed king so instead it settled on Richard Duke of York the titles of Lord Protector; Earl of Chester and Prince of Wales. Richard Duke of York  was therefore legally putative heir to Henry VI. The promotion to Earl of Chester was important since it made the Duke of York a Palatine Prince co-equal to the palatinate status of the duchy of Lancaster. Parliament could not create such a palatine but it could and did award one already existing and already owned by the crown to York. It could hardly have been more explicit.
Queen Margaret fled North looking for allies and found a welcome in Scotland. Together with James III she invaded England at the head of a large army and Richard, Duke of York was unexpectedly defeated by her army at Wakefield. He and his youngest son Edmund were killed.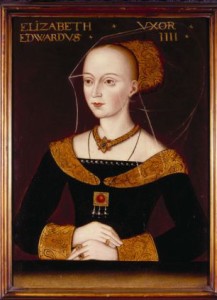 His three surviving sons, Edward, now Duke of York; George, (later Duke of Clarence);and Richard (later, Duke of Gloucester) were not minded to take the murder of their father and brother lying down. If his father had ambition; drive and skill on the field; Edward had real military flair verging – alike that of Henry V – on genius. He was also handsome as Hades and a notorious womaniser and looked every inch the king he was about to become. The three brothers together with the Neville defeated Margaret. Edward seized his moment and was quickly crowned Edward IV (1461-1483).
Queen Margaret and their son Edward of Westminster fled to France. Henry VI was placed in the Tower.  In their places they all stayed until Fate tempted them.
Fate came in the cut of the Earl of Warwick – the kingmaker was switching kings. He persuaded Edward IV's brother George Duke of Clarence to join him. Clarence later double-ratted and the worm of treachery burrowed its way into what until then had been the united House of York.
The House of York
Edward IV once king had surprised everyone by marrying down rather than up. He fell in love with and secretly married Elizabeth Woodville and by her had two sons Edward (proclaimed  Edward V in June 1483) and Richard, Duke of York. These are known to History as the 'two princes in the Tower'.There were a number of surviving girls – Elizabeth; Mary; Cecily; Anne; and Bridget (who became a nun in Dartford Abbey). If the boys failed to live up to the promise of the three glorious sons of York  – Edward IV's daughters fared better and went further.
Edward IV's marriage was not without controversy and not at all what the earl of Warwick had planned for the king. Warwick in negotiation with France had won the hand of a French princess for the new dynasty's new king. Thwarted Warwick fell from favour and fled England. His travels eventually brought him to the court of Margaret and the Lancastrian Prince of Wales. Their subsequent invasion caught Edward IV off-guard and he in his turn fled London to Burgundy. Henry VI was briefly restored but as ever with Henry's reign fate rained on his parade. In 1471 at Tewkesbury Edward IV defeated the forces of Margaret and there followed a bloodbath of Lancastrian nobility which included the putative Lancastrian heir, Edward of Westminster.  Edward IV then had Henry VI brusquely murdered in the Tower – leaving no further hostages to fortune – it seems the family war was finally over.
There was one other trailing piece of business – Edward IV no longer trusted his brother George. He duly had the duke was arrested and attainted for treason. Clarence's children were excluded from the succession and Clarence ended in a butt of Malmsey wine.
But alike Henry V,  Fate now took a hand and her revenge upon the Yorkists in their pride. Edward IV died suddenly. He left two young princes at the tender mercy of the body politic. If minorities were unstable this was to prove the least stable of all of them.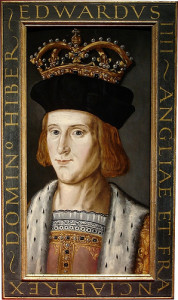 Edward IV's younger brother, Richard Duke of Gloucester was briefly Lord Protector to the minor Edward V but the princes were declared bastards and Richard was himself proclaimed King Richard III in July 1483. Richard III was the last Plantagenet king to rule England and the last monarch of the House of York. His death at Bosworth Field in 1485 made way for the Tudors – who had their claim via the Beaufort  cadet branch from John of Gaunt and Catherine de Valois, wife of Henry V and later of Owen Tudor.
Elizabeth of York married Henry VII and thus the Tudors united the two roses and she is consequently both mother to the Tudor dynasty and a grandmother to the Stewart.
The other daughters of Edward IV – Cecily married John, Viscount Wells – half-brother to Margaret Beaufort; Catherine married the William Courtenay, created Earl of Devon in 1511 by Henry VIII. Clarence's surviving heir was restored in blood by Henry VIII. She had by them married a henchman of Henry VII, Sir Richard Pole. Margaret Pole, Clarence's youngest daughter was made Countess of Salisbury in her own right. But the sun on these last of York burned too bright. Margaret's son fell out with Henry VIII over the divorce. Reginald Pole fled England in 1533 and only finally returned to England under Mary I to serve briefly as Archbishop of Canterbury.  his mother, Blessed Margaret Pole was by then dead. She had refused the Supremacy and was executed for treason a few days after her eldest son. He grandson died a few years later in mysterious circumstances inside the tower. The lights of the House of York were extinguished.
Ends and what ends mean
However, because the story is complicated it does not mean it cannot be readily understood.That seems to me to show intellectual condescension that is unjustified. If the "average Joe" is quite capable of following a complex web of family intrigue involving power that is the Game of Thrones on TV the Wars of the roses ought to be a piece of cake.
There has been a great deal of twaddle spoken and written about Richard III over recent months. Historians good, bad and indifferent have paraded around Media studios like circus clowns. I saw one historian sitting on a sofa wearing a suit of armor chatting to Jon Snow meaningfully about how it helped him to get inside the tenor of the times of Richard III. Dressing up in costumes and play-acting is fun – it should be encouraged – but it should not be dressed up as history – anymore than microwaving a chilled dinner can masquerade as cooking.
Channel Four News coverage has gilded practically every lily and white rose it could lay its hand upon. We have been solemnly informed that this was an historic occasion; the Epic journey of the last Medieval Plantagenet king; and at its end Richard III was finally buried with the dignity of kingship.It makes one wonder if any serial killer might deserve to be re-interred with such pomp in the right circumstance.
The event was noteworthy and not historic. As it happens the king had already been buried in Grey Friars and would have received all his spiritual dues, even if his dead body had by then been exposed to indignities. Carting the rediscovered bones of Richard III about Leicester in a new coffin hardly adds up to an Odyssey let alone an Epic event. Finally, King Richard III has been dead some five hundred years and at this stage whatever we know we are unlikely to know very much more – the surviving evidence is not changed a jot by all of this. His bones – with the curvature of the spine –  provide an interesting footnote. His tomb in Leicester Cathedral will provide the city with a tourist attraction – much as the relics of saints did for churches in medieval times. In that there is no harm and perhaps some definite good.