Madam Butterfly
G. Pucinni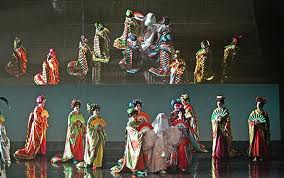 Original Director, Anthony Minghella    Revival Director, Sarah Tipple   Conductor, Gianluca Marciano
Italian conductor Gianluca Marciano makes his ENO debut conducting
Dina Kuznetsova as Cio-Cio San and Timothy Richards B.F. Pinkerton.
I had never seen this particular production of Butterfly.
It was once described by The Times as 'one of the most deeply thoughtful and ravishingly beautiful re-creations of Puccini's opera that you're ever likely to see'. Frankly, this is a measured judgement. Anthony Minghella's sumptuous production of Madam Butterfly appears almost visually perfect in every way.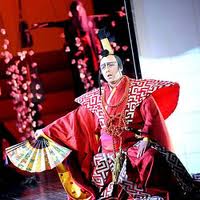 It honours the clash of cultures; it honours the traditional Japan as perceived from the West. It honours the awful truth of Imperialism. Behind the poses of the lavishly costumed Japanese Anthony Minghella and his wife Carolyn Choa have posed hard questions that many would prefer neither to acknowledge nor to answer – even in these days post-Savile that acknowledges the fact that child abuse rests upon exploitation. F.B. Pinkerton verges on what we might wish to call in our times a sex-tourist who exploits the culture and abuses relative the poverty of a society unused to his value-system.
This was the first and sadly will be the only opera directed by the late Anthony Minghella. What a loss to staging dramatic art. This production launched what is hoped will be a fertile artistic relationship between ENO and the Metropolitan Opera, New York. Best known for his work in film, Minghella won an Oscar for his film The English Patient and a BAFTA for The Talented Mr Ripley – the latter being one of my favourite films.
Madam Butterfly is one of opera's most famous and tragic love stories. It has some of Puccini's best known music, not least one fine day, that favourite of the chocolate box repertoire of sopranos in concert. it was often thought of simply as a tragic Romance. but if it is tragic it is not because of the romance.
The story revolves around a young Japanese girl (14 or 15) whose family has fallen on hard times. Cio-Cio San has in consequence become part of the geisha culture. She has also fallen in love with (and when we meet her is just about to marry, according to Japanese custom) an American naval officer posted in Japan, F.B.Pinkerton. His nickname for her is Butterfly. From the outset Pinkerton feels neither morally or emotionally bound by this sexual caprice on his part. Butterfly horrifies her family by renouncing her old religion and embracing Pinkerton's – little knowing Pinkerton's religious faith binds him to nothing.Therefore, the great love duet that many assume is some paean to love which closes Act I is most particularly tragic. Pinkerton's heroic tenor line pleading with Butterfly – veni, veni – calling her on to bed is precisely that the passionate unheroic call of sex which Butterfly imagines she hears as the eternal call of true love.
After the consummation devoutly to be wished Pinkerton leaves Butterfly to return to the US. Once home Pinkerton manages to forget all about butterfly and contracts a marriage of his own. Meanwhile,  Butterfly loyally waits for him, refusing to accept that he no longer wants her. When he finally returns with his bride he learns butterfly has a son. He and his new wife agree to take the child. Butterfly, realising the only future for her son lies with Pinkerton gives them the child. she then kills herself with the ritual knife the Emperor had sent to her father with which he was expected to kill himself.
Madam Butterfly was based, in-part, on the 1898 novel by John Luther Long. The opera has also inspired the much loved West End musical, Miss Saigon.
One of the many innovations of this production are the puppeteers Blind Summit, whose other work with the company includes Sharik the dog in Simon McBurney's production of A Dog's Heart. The puppeteers portray Butterfly's and Pinkerton's child.
The production opens with visually stunning choreography devised by Carolyn Choa which utilises the tradition of the Japanese fan dance.
Sarah Tipple returned to ENO to direct the production for the second time. Who can blame her. No sane person would not want to be associated with a production as beautifully conceived as this.The original creative team consists of  set designer Michael Levine, award-winning lighting designer Peter Mumford and fashion designer Han Feng, whose  costumes for the opera have rightly been described as '…ravishing…' by The Daily Telegraph.
Soprano Dina Kuznetsova was outstanding. She combined musicianship and a compelling stage presence with grace and vocal agility. She has previously performed at the Metropolitan Opera, New York and the Royal Opera House London. Her Cio-Cio San was definitely world class. Her 'one fine day' was moving ; but the  flower duet and final scene were emotionally rousing. Brava…as they say….
Timothy Richards we are told is recognised as one of the leading tenors of his generation. His F.B. Pinkerton was competent. He never really caught fire in the love duet – frankly out-classed by Butterfly. I would be tempted to return and hear Gwyn Hughes. Pinkerton is the most unforgiving of parts. It is set high and full of forte full throated passion. Few singers can sustain the demands of the great duet. On top of that – Pinkerton is a first class bastard on every other level. I do not think my mum and her generation were so aware of how little love there is in this story and how much exploitation. That part Richards caught with some relish – perhaps a little bit too much relish. Pinkerton is more cruel than panto baddie. Pinkerton's capacity to imagine the world only through his own needs marks him out in a particular way. It is the selfish in us all that is most cruel.
Catherine Young returned from the 2012 revival singing the role of Kate Pinkerton and fellow ENO Harewood Artist George von Bergen gave us an adequately sung Sharpless. The cast was completed with Pamela Helen Stephen who really gave a stunning performance as Suzuki. we had three good male singers in Alun Rhys-Jenkins as Goro; Mark Richardson as The Bonze;  and Alexander Robin Baker as Prince Yamadori.
This is not a Butterfly to miss and for those who have yet to taste the pleasures of opera I can hardly imagine a better place to start than here with the ENO's ravishly beautiful, fully realised Madam Butterfly.