The colours that you find inside Comrade Chyorniy's mind….
There is nothing more incomprehensible than the mind of a bureaucrat. This is not my judgement but rather a paraphrase of Tolstoy's famous judgement. In some ways it is refreshing to know we are doomed always to struggle with the same stupidities of human nature. Still sometimes one feels like Koko in the Mikado that the best revenge is to put them on the list….
I first saw a performance of The Mikado when I was about 7 or 8. It was an amatuer performance at my sister's school –  the Convent of the Nativity –  in College Road in Maidenhead. I was smitten early and retain a peculiar affection for G&S. I say peculiar because I think most of my friends and family think it is very peculiar indeed – akin to a form of dementia.
I think otherwise. W.S. Gilbert indeed is in my opinion one of the most underrated of English satirists. And what's wrong with a belting good tune? And boy oh boy couldn't Arthur Sullivan write them? Sullivan's foree into serious opera was less happy – Ivanhoe was a flop and I've never heard it. Wagner without the tunes someone once told me. The monument to his operatic folly still stands in Cambridge Circus. The theatre was built by D'oyly Carte to be home to the genre of English Opera he hoped Sullivan would make as famous as the Savoy Theatre had been made famous by the comic operettas of G&S – still known as the Savoy operas.
Very early on in The Mikado, Koko the relatively newly appointed Lord High Executioner presents the citizens of
Titipu ( and the audience) with his personal list of pet hates in his famous I have a little list patter-song….these include piano organists, banjo serenaders, lady novelists…and Koko ends his song with…But it really doesn't matter whom you put upon the list, For they'd none of 'em be missed…..they'd none of 'em be missed. To Koko's Little List I'm pretty certain I'd now like to add –  Lambeth's Conservation Officers and Listed Building specialists, I sure they'd not be missed, I know they'd not be missed. 
Richard and I happen to live in a house of the 1830's. It is the last in a group of houses built on the remnant of the Fentiman Estate. Fentiman Road runs along side the house. I believe it used to mark of the boundary where the Parliamentary Division bells rang. 64 is one of many similar houses along the Clapham Road. Though we like and love the house it is hardly a gem of purest ray serene. Volume 26 F.H.W Sheppard's history notes of our terrace:
"These houses are examples of the original development on the Fentimans'  copyhold estate, though their architectural poverty makes them otherwise unremarkable. Nos. 92–122 were erected about 1824, probably by Thomas Coope; they form a plain three-storey terrace with attics. Shops have been built across the front gardens of Nos. 106–110. Nos. 60–66 were erected a little later, in the 1830s, and form a four-storey range with continuous cast-iron balcony railings on the first floor."
So, unexceptional 64 Clapham Road is exceptional only in one respect – it happens to be Grade II Listed. There is no obvious reason why this short run of terraced houses is listed at all. There are better examples further down the road and opposite to the left and right. Fentiman Road itself has a much finer 1820's terrace in which there isn't one house that is listed at all. Many of the bigger houses like ours became offices in the 1960's and 1970's. In due time they were listed by their owners as the owners could off-set all the repair costs and later all reclaim the VAT on building maintenance if their building was listed.
The Planning Officer whom we shall call Comrade Chyorniy flatly told us in July that 64 Clapham Road was listed in the 1980's by English Heritage as an exceptional house in an exceptional terrace. He also told us officials of English Heritage solemnly drove around London in cars only listing all the very best properties in the city. The mind as they say boggles…and boggles on so many levels. I have no idea what they teach at school these days but evidently in these hard times, hard facts are in short supply. In any event as English Heritage was created after 64 Clapham Road was listed I'm not sure Comrade Chyorniy's version of the historical facts relating to our house rests on anything more than the over-inflated self-importance of uncontradicted opinion. I'd rather rest upon Sheppard's judgement.
Below there are a random number of Grade II Listed London houses – they all share one common factor – their brickwork is painted charcoal (black).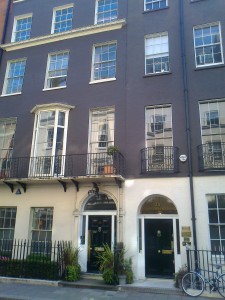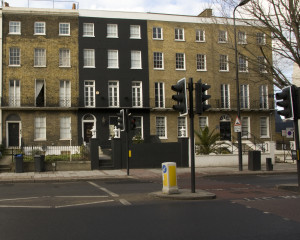 If you can spot the odd one out and tell me why it's the exception – I'll buy you a bottle of champagne.
These days we would all agree brickwork is best left unpainted but a century ago this wasn't the case. And once London brick is painted it is almost impossible to restore it. The brick is too porous and the paints used before the 1980's were too readily absorbed by the sponge-like brick.
Therefore, the only rule is that having once painted the brickwork you must go on painting it.
When we bought 64 Clapham Road it was painted a hideous shade of yellow-cream. It had been stirred into life by hand – – mixing white emulsion with an ochre emulsion. As a result the frontage of the house was hopelessly streaked. This abortion drew no comment from the Lambeth's Heritage and Conservation officers.
Again, traditionally, in London, stucco work and smooth plaster were painted white or cream and brickwork (if painted at all) was painted charcoal.
In the event after purchase in 2008 we decided to repaint the brickwork on 64 the colour which is now retailed as 'Downing Street'.
That's right, the clue is in the name of the paint –  it is the same colour that Grade I Listed World Heritage Site uses on its brickwork.
It's the heritage colour traditionally used to paint brick in London but not in Lambeth……no….no…no….
In the Lunacy of Lambeth Council's Heritage and Conservation Soviet the only colour you can paint any listed property is cream.
If you're lucky enough to live in Mayfair. St James's, Kensington, Chelsea or even Notting Hill you can choose another colour…like 'Downing Street'…but not in Lambeth….
Why this is heritage when brickwork could never have been painted cream in any case before the Clean Air Acts of the 1950's – is beyond me.
Not only does this defy logic it also defies the ruling of the Secretary of State who recently judged the colour of a facade or door did not significantly affect the status of the Grade II Listing of buildings.
Inside the wonderland that is through the looking glass and inside which lies the realm of Lambeth's Conservation & Heritage Department it is perfectly obvious that white is black and black is white…or black is cream and cream is black…and that is that…as Comrade Chyorniy might say….over a plate of blinis with Beluga caviar….and with a bottle or two of Vodka….
Not even Gilbert could have made this up…though good old W.S. would have had great fun at the expense of Lambeth Council were he still alive today. Sadly, I who am alive today and live in Lambeth have only the expense….fun also being off Comrade Chyorniy's little list…