Simon Boccanegra by G. Verdi
Simon Boccanegra – Thomas Hampson
Jacopo Fiesco – Ferruccio Furlanetto
Amelia Grimaldi – Hibla Gerzmava
Gabriele Adorno – Russell Thomas
Paolo Albiani – Dmitri Platanias
Pietro – Jihoon Kim
Amelia's Maideservant – Louise Armit
Captain – Lee Higginbottom
Production:
Director – Elijah Moshinsky
Set Designs – Michael Yeargan
Costume Designs – Peter J. Hall
Lighting Design – John Harrison
So here we are at the last of the trilogy of political operas that have marked the last part of this season. It's an old production – someone tells me 1991- it still looks fresh as a daisy. The set is grandly simple and leaves space for chorus and singers to become alive in character. Some of the singing last night – even in an unusually fidgety audience – was sublime. This is easily the best thing staged this season that I've seen. It is the best sung opera I've heard for some time. The voices complemented and balanced one another rather than trying to outshine each other.
This is another of the operas from the middle period of Verdi. It is set in Genoa where Simon Boccanegra a former corsair is elected Doge. It's a complicated political story spun around a tangled web of family rivalries; abduction; an orphan; a father reunited with a lost daughter; and his rediscovered daughter is in love with her newly found father's enemy. If it sounds unpromising it is a fascinating study in the obligations of office and obligations of family and the duty owed to both. Things are reconciled tragically by means of Boccanegra's death.
Like Don Carlos this is a work to which Verdi returned in the golden years of his old age. The original libretto was the work of Piave with whom Verdi collaborated on nine of his operas. Despite having some ravishing music it largely failed as an opera and after its opening in La Fenice in Venice – Boccanagera was performed only a handful of times. In 1880 it became the first project Verdi worked with Boito and the change is transformative in every sense. The clunky first Act was virtually entirely rewritten, now ending in the justly famous Council Chamber Scene – one of Verdi's greatest set pieces – at the heart of which is one of the most beautifully written of arias – combined with a tumultuous chorus – in which Boccanegra sets out his political and personal testament.
There are also some rivetting duets for tenor and baritone in Act I and for two baritones in Act II. In this latter duet last night Thomas Hampson as Simone and Ferruccio Furlanetto as Jacopo Fiesco gave the most touching and vocally compelling account of this marvel of composition. Hampson was not my idea of Boccanegra but the performance he gave was faultless. I've rarely seen a singer in so much command of voice and character. Furlanetto after his stunning Philip II in Carlos proved himself yet again to be entirely at home on and in command of the stage at Covent Garden. He gave a belting, strong and secure performance. He has a wonderful presence on stage but also owns such intelligence in acting.
Paolo Albiani was sung by Dmitri Platanias who again last night gave an assured performance with deep smooth voice, like stroking black velvet or listening to the bass purring of a big cat.  Another new voice to me was the tenor who sang the part of Gabriele Adorno – Russell Thomas. My goodness we have a tenor who has a bright, lovely , vocally clear voice and who can act rather than merely stride to effect. His big number in Act II brought the house down – how great to hear someone unstrained in the upper register more like from the stable of Di Stefano or Bergonzi rather than some of the fog horns bleating one is often presented with these days.
This is a men's opera and that makes the role of Amelia Grimaldi ( sung by Hibla Gerzmava) unusually dominant and unusually exposed. Her opening aria come in quest' ora bruna  was somewhat ruined by a restless audience getting themselves seated but after a slightly uncertain start she blossomed like a lily in the golden pond. Her full throated high register was stunning; her technique at times breathtaking but she also has a creamy quiet pianissimo middle where the notes float into the air. Papano conducted this with a telling intelligence bringing out such sweetness in the vocal lines of Verdi.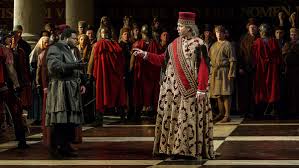 But last night it was much more about bravi than bravo or brava. It was one of those rare occasions when artistry comes together in harmony to make great art. Whether inspired by Hampson and Furlanetto I cannot say but, if so or, if not, they all sang with and for each other and my goodness what a difference that makes. As Lorenzo says in Merchant of Venice:
'In such a night Stood Dido with a willow in her hand Upon the wild sea-banks, and waft her love To come again to Carthage.'
Last night was such a night and I know there will not be many more in any lifetime to equal or surpass the magic of the moment. If you can, beg, borrow or steal and go hear and see this for yourself.