Flushed with success at Flushing Meadow
Any Murray at the fifth attempt finally lifted a Grand Slam trophy in his own right. Earlier this year I commented here on the change that had come over Murray and though I'm reluctant to make my career as a soothsayer or even worse Cassandra I think I can say that after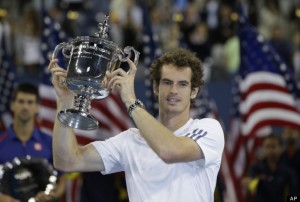 his Olympic Gold Medal you had heard it here that I thought he would go on to win in Flushing Meadow –  where he won the Junior Championship & where the hard courts are particularly well-suited to his hard game.
I can honestly say I had nothing whatever to do with his victory – though I may have lit a discreet candle for him from time to time in Westminster Cathedral. However, one of the joys of a blog is it allows one to crow wisely from time to time over some perceptive remark or other one has made. Of course there are many more words on here that turned out to be less than perceptive but allow me like Andy – my moment in the sun.
Murray hasn't been a particularly popular player amongst many English tennis fans. Too much angst; too much truculence and too little of the gentlemanly loser – like Tim Henman. By that I do not mean to belittle Mr Henman or his achievements – he had the greatest touch of his generation of tennis players – but he lacked the killer instinct which I'm afraid any champion needs.
Murray has with singular determination taken his considerable talent and sculpted it to fit the modern game. He made himself an athlete. He trained harder than many thought he could. By dint of this he has finally made it to the top and I'm pretty sure he will now win a series of Grand Slams. He might well win the O2 finals this November. I think Wimbledon is certainly in his sights next year. But for him the challenge will be the clay court chamionship at Roland Garros. While Nadal plays that will be a big ask for any player but perhaps not next year but the year after Murray will mould his game to the slower clay courts – just to prove he can.
He will have no shortage of friends now in the Media and on the centre court – after all everyone likes a winner. But success has rarely been harder earned and better deserved.